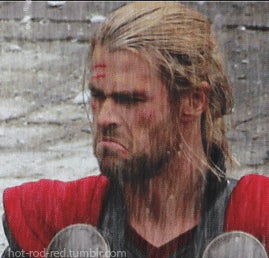 I literally just posted this news, so feel free to skip over this post if you can't take stupid people being stupid and come party with us here where everything is nice and fun.
In any event, let's have a look at some of the worst of humanity expressing their disgust at the concept of a Thor who isn't a dude.
Political correctness gone mad!!
Marvel's changed Thor into a woman. Victory for gender equality or pointless publicity stunt? I think you know the answer.

— Duncan MacMaster (@FuriousDShow) July 15, 2014
Ooh, which is it? Which is it?
@SGT_BuckyBarnes "Nothing to worry about. Just some kind of spin off. Male Thor will come back."

— Sigkitty Laufeyson (@LokisOnlyQueen) July 15, 2014
Not according to the actual writer of the series. I mean, I'm sure that Thor will eventually regain his powers, but that doesn't make this a spin-off.
@laufeysdottir lmao i guess everyone has forgotten what thor's hammer is a literal fucking smybol for and now im laughing

— HIGH MPREG PRIESTESS (@witchqueenloki) July 15, 2014
There has literally never been a better time for this gif: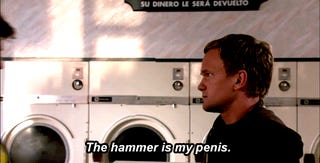 THOR ISN'T A FUCKING TITLE TO BE PASSED AROUND! IT IS THE NAME OF THE DUDE!

— Android Doctor (@SleepinEyes) July 15, 2014
And if there's one thing I know about names, it's that nobody has the same name ever. Or that names can't ever be titles. Or that superheroes can't ever have symbolic names. Like Bruce Batman Wayne. It's his name you guys.
is the female thor named THOT? where am i

— SKINNY FRIEDMAN (@skinny412) July 15, 2014
Gross.
Thor? A woman? FFS! @Marvel I'm done with you, fuck off! When ur out of decent ideas, do something outrageous, is that it ? #Thorette #WTF

— michael moran (@Iron__Mike) July 15, 2014
Representing half of the human race = outrageous, out of ideas.
With that said, fair is fair. Many of the reactions have been great. So enjoy a little positivity on your way out:
Remember when Thor was a frog? Too bad that ruined the character FOREVER

— Stingray Almonds (@sraymonds) July 15, 2014
I hope the new lady #Thor ends up in the cinematic universe and that they cast the chick who plays Brienne of Tarth in the role. #BadAss

— daniel grisinger (@danielgrisinger) July 15, 2014
Fancasting approved.
Thor is now a woman. Yay!! The first time Loki makes a pass at her, I'm out like a trout. Potential nay. Nervous to see how Marvel proceeds.

— Miss Thursday (@vulcanarchy) July 15, 2014
Now Thor is officially a woman and she looks awesome ;-; pic.twitter.com/bCQmZgqvml

— Barbara Nery (@barbnery) July 15, 2014
Why wouldn't Marvel gamble on a female Thor? The films & Kid Loki attracted a legion of new female fans, strike while Mjolnir's still hot.

— Minovsky Articles (@MinovskyArticle) July 15, 2014